Linton
The Mollycoddled Manamana is an unreleased
Moshling
in Moshi Monsters, in the
Salties
set. He is featured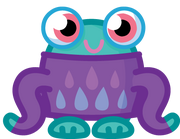 in the
Series 6 Figures
as a common figure.
As well as being terribly fussy, Mollycoddled Manamanas are timid critters who rarely leave the cosy rock caverns they call home. Never seen without their trademark oversized jumpers (knitted by their adoring mummies), these wide-eyed Moshlings enjoy tinkering with toy trains,stamp collecting and brass rubbing.
Gooberry-flavored milk and mini cookies.
Short sleeves and visiting the doctor.