Jackson the Dapper Clapper is an unreleased and upcoming
Moshling
in fhe
Movies
set in
Moshi Monsters
,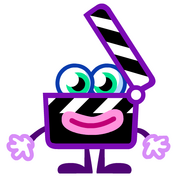 resembling a clapperboard.
He was first found as a silhouette Series 8 Figures image found on the 13th August, 2013. His name and design was found in Issue #33 of the Moshi Monsters Magazine where he featured as a sticker.
Jackson is also featured in the Series 8 Moshling Figurines, set to be released on October 18th, 2013.
Jackson is also rumored to be an Uncommon moshling.
This movie-loving Moshling spends most days hoping to hear 'Action' or 'Cut' because they are the only two words that will activate their clickity-clackity heads. Perhaps that's why Dapper Clappers are always hanging out with Mouthy Moguls on film sets. If you see one, watch your fingers, or make like a Dapper Clapper and wear snapper-proof gloves.
Black and white movies and subtitles.
Z-List celebs and trapped fingers.