Hoolio the Creepy Crooner is a Mexican skeleton Moshling in Moshi Monsters, featured in Series 7 Figures.
He plays an acoustic guitar and wears a top hat and suit. When clicked, Hoolio plays his guitar but his head falls off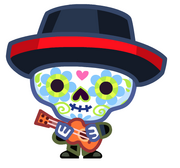 when playing.
Hoolio will be a reward in a Super Moshi Mission, as confirmed by his Moshling Madness card. However, he can already be obtained through completing the Ecto Gloop Meter.
He is dead good on the guitar, Creepy Crooners are the wandering minstrels who love playing mournful mariachi music, especially when there is a full moon. With their colourful make up and snazzy outfits they can often be found in posh Moshi restaurants serenading diners, handing out dead roses and collecting tips in their hats. How romantic!
Piñatas filled with bugs and rotten tortillas
Daylight and decent melodies.