Dustbin Beaver
the Moptop Tweenybop
is an
Ultra-Rare
Moshling
in the
Moshi Monsters
game. He can only be obtained by subscribing to the
Moshi Monsters Magazine
. He has the same species as
Zack Binspin
.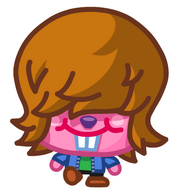 Dustbin Beaver is a parody of Justin Bieber.
After subscribing, a code will arrive via email, everyone's code is different and can only be used once by one person. If someone used a Dustbin Beaver code then gave it to a friend, the code will not work for them.
As of the 21st November, Dustbin Beaver will be un-obtainable, due to Wuzzle taking his spot for subscription in the Moshi Magazine. 
Living in a dustbin is pretty weird, but this hair-obsessed heart-throb would be mobbed if he left the safety of his rubbishy pad. Not by screaming fans (or 'Belevers'), but neighbours sick of Dustbin's high-pitch warbling.
Licking bowls and blunt scissors
Garbage day and homework